Once a week, I post a quote that I've read/heard recently. So here's this week's Quote I love …
Sesame Street recently celebrated its 40th anniversary. I saw this quote and just had to post.
"Happy 40th Anniversary to Bert and Ernie. You can't get married yet, but your love inspires us all. Congratulations!"
Kate Clinton
Via Twitter
I grew up watching the show, and I have to say Ernie was one of my favs (as well as Oscar and Snuffleupagus). There was just something about Bert and Ernie's relationship that I really liked as a kid. It wasn't until I was older that I realized…"hey, they were gay."
One of my favorite books when I was first learning how to read was The Great Sesame Street ABC Hunt. It was one of those buy-a-book-and-we'll-insert-your-kid's-name-and-other-info-in-the-text books.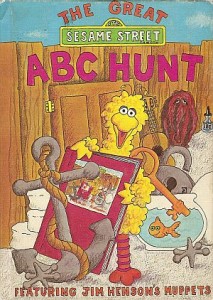 My best friend's mom bought it for me and signed his name on the inside cover. I loved it because it was a gift from him and, of course, I was friends with Big Bird in the book! I still have it on my bookshelf. A huge thank you to my friend's mom and Sesame Street for helping me enjoy reading.
Happy Anniversary Sesame Street!! And Bert and Ernie (my first m/m romance)!!
So who was your favorite Sesame Street character? And did you think Bert and Ernie were gay when you watched? Comment or send me an email. I'd love to hear from you.
Have a great day!
Sloan Parker