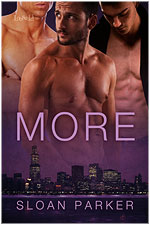 I'm delighted to announce that my first release, More, is now available at Loose Id. It was a long journey to get here, and I'm thrilled to see More hit the digital shelves for readers.
Many thanks to everyone at Loose Id who helped with this book. Special thanks to my editor, Antonia Pearce (you rock!!), for all the wonderful input and to April Martinez for the gorgeous cover.
Also a big thanks to my local RWA chap mates at MVRWA for all the support and encouragement over the last several months. And last (but certainly not least) to my sweetie for all the love and support to get here.
To read an excerpt and sample chapters visit: www.sloanparker.com/books-More.htm
More is available for purchase at www.loose-id.com/More.aspx
I hope those of you who buy a copy enjoy the read. I cannot tell you how much I enjoyed writing it.
Many thanks,
Sloan Parker