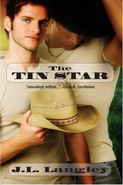 Felt like posting something sexy today, and since I'm not ready to share my work-in-progress, here's a quote from another author of gay romance, J. L. Langley. This is from the first kiss between Ethan and Jamie in the The Tin Star.
Ethan knew it was a bad idea, but he just had to taste that sensual mouth. He leaned forward, his lips lightly brushing Jamie's. Jamie gasped, and before Ethan knew what hit him, Jamie had taken over, his mouth crushing his, tongue pushing for entrance. He grabbed Ethan's face with both hands and urgently pressed his body against Ethan's, or as near to it as he could get with them both still sitting. He was rough, aggressive, practically swallowing Ethan up as his tongue searched and caressed every bit of Ethan's mouth. Finally, he calmed down a little, gentling the kiss, and Ethan had the chance to kiss him back at last. Jamie's hands slid to his shoulders. Their tongues met and parried. It was like making slow and easy love. Jamie moaned.

It was one of the most erotic things Ethan had ever heard and made him even more painfully erect.
From The Tin Star by J. L. Langley.
You can find out more about Langley's work at www.jllangley.com
Enjoy your Monday.
Sloan