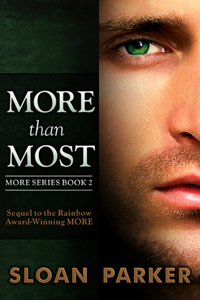 Matthew, Luke, and Richard are back! MORE THAN MOST (More Book 2) is now available for pre-order at Amazon and Barnes & Noble. You can order now to secure your copy at a special introductory reduced price.
You can also read the first 20 pages for free on my website.
*Pre-order for this title is coming soon to iTunes and Kobo. Also there's no pre-order at All Romance Ebooks, but the book will be available there on release day, April 28th. 
I'm so thrilled to finally be sharing their continued story with everyone. Here's the book's description:
Richard, Luke, and Matthew return in this sequel to MORE, a Rainbow Award winner for Best Gay Contemporary Romance.

Investment manager and always-in-control Richard Marshall has just landed a historic estate he's waited years to acquire. Gone a lot for his work, he's seriously craving his men. Yet it's more than just the sex he's missing. Emotionally-traumatized Luke is still dealing with the aftereffects of his father's attempt to kill him, and Matthew's trying to find his way as part of a menage relationship.

When Luke and Matthew come clean with Richard about what they've been feeling, he knows there's only one way to solve all his problems: keep them close by accepting their help to investigate why someone wants to destroy the mansion he's trying to save. When it becomes clear he's put his family in danger, Richard has to choose between giving up control and pushing away the men he loves right when they've started to heal and have rekindled the explosive chemistry that brought them all together.

A menage relationship is hard enough. Add in danger, intrigue, a haunted mansion, and three sexually frustrated men, and it's not a typical love story. It's much more.