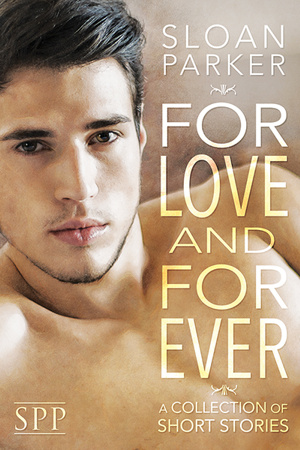 I'm thrilled to share this amazing cover from artist L.C. Chase for my short story collection FOR LOVE AND FOREVER, which will be released this month in both ebook and trade paperback formats. I'll post links here and in my newsletter once it's on sale at bookstores. Here's the full description:
Six gay love stories from Sloan Parker, award-winning author of M/M Romances.
Cops and Lovers: SWAT teammates Sawyer and Finn have been secretly sleeping together for two years. Sawyer couldn't be happier with the arrangement. Until Finn gives him an ultimatum.
His Roommate's Secret: Brady harbors a secret crush on his straight college roommate, but he doesn't think he'll ever get the chance to climb into Rex's bed. Until Rex shares a revelation of his own.
Swept Away: Eddie just wants to spend a quiet night celebrating with his partner on their fifteenth anniversary. Only this year, Mike has a surprise in mind. A surprise that may be more than Eddie imagined possible.
The Break-In: Billy's been breaking into his ex-lover's apartment every Friday night for a little solo sex in the bed they used to share. One night he almost gets caught. Now he has only seconds to decide if he should stay or run from the most erotic encounter of his life.
A Lesson in Truth: After two years of longing, David can no longer deny what he feels for Michael, his professor and graduate school advisor.
Something to Believe In: Sean and Gavin meet on the streets and fall in love. Now they must search for a way to find a home and build a life together.
All of the stories in this collection were previously released as individual ebooks. This collection contains explicit sexual content, graphic language, and one all-male menage relationship. 55,412 words.