I dedicated my latest novel, HOW TO SAVE A LIFE, to one very special young man named Gary. Who is he? I wrote a guest post several years ago where I shared about Gary, my very first love. Since How to Save a Life's been out for a few weeks, I thought I'd repost that old blog entry for anyone who'd like to know more about the story behind the dedication.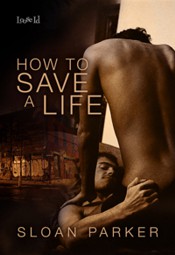 The following was originally posted at Fiction with Friction on March 25th, 2010.
My first release is available at Loose Id this week, and I couldn't be more thrilled. The book is titled MORE and is the story of a confirmed loner who breaks all his rules for two men he meets at a sex club. Too bad his father will do almost anything to put a stop to the relationship.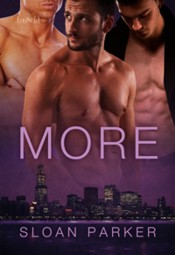 Writing and submitting a book was one of the most challenging and rewarding experiences of my life. And with its release I've been thinking a lot on life and goals and love and risks.
Thinking about all that took me back in time to my very first love.
He was an older boy who lived down the street from me and wanted to play "I'll show you mine if you show me yours." Uh, get your minds out of the gutter, folks. He was talking about my horse and his goat.
And no, those aren't some special code words for penis and vajayjay. I grew up on a farm. I really had a horse. And he really had a goat.
There was much discussion on the deal. I think it went like this…
Gary: "I'll bring my goat tomorrow."

Me: "Okay."

Gary: "You can show me your horse."

Me: "Okay."
I think I mentioned he was older than I, and I was seriously crushing on him, so words weren't my forte right then. I was lucky I could form single syllables.
The next day, he dragged that goat almost a mile from his house to mine along a major two-lane US highway. I can just imagine all the truckers and summer vacationing families laughing at this kid walking his goat down the center of the ditch, the blazing sun beating down on them, sweat dripping off his brow, the stubborn goat stopping every few steps, and Gary dragging it by the little rope he had looped around her neck. You really would have thought Gary was getting a piece of ass for how much effort he went to with that goat. That boy loved horses.
I would've loved a kiss, but I never did get to kiss Gary.
After the horse/goat deal, we didn't see each other as much. When it came time for me to go to the same high school as he, I decided I'd work up the nerve to talk to him again. It was my chance to get him to notice me. I had it all planned out. I was going to be lost, wandering by his locker and have to ask him how to find my next classroom. Not the greatest setup, but I was fourteen. Give me a break.
Never did get to try it out, though. Gary was killed in a car crash before the school year started. As far I know, he never did get to ride a horse.
That's a regret I still carry with me. I should have asked Gary if he wanted to take my horse out for a ride, even if it meant I'd get in trouble when my parents got home. I should've offered. I should've asked.
I should've kissed him.
If I had only known that summer we spent together was the only one I was ever going to have, I would have taken a chance sooner.
Sometimes taking a risk is the best option. So my advice…if there's ever something you really want to try but are afraid to, don't let the fear stop you. I wanted to write a novel about three men who meet on the same night and fall in love. I guess…dreams really do come true.
So what was your first love? Your first crush? Did you kiss? Hold hands? Come on, I'm feeling nostalgic. Share…
Good luck to each of you on making your own dreams come true.
Sloan