5/4/12 10:00 AM EST: Updated to add a couple more prizes to the list
5/4/12 4:20 PM EST: Added another new book. We now have 21 prizes!!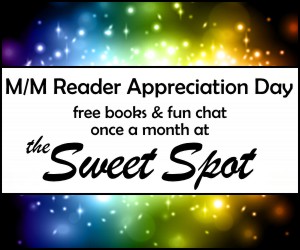 This Saturday, May 5th, the lovely SJ Frost and I are hosting another m/m Romance Reader Appreciation Day at the Sweet Spot Yahoo Group. This is a day for authors to say thank-you to the wonderful readers of m/m romance. This month we have a fantastic list of prizes! Be sure to check them out below. Some of the authors included in the giveaway will also be sharing excerpts of their work.
Here's how to enter the giveaway:
If you haven't already, join the Yahoo Group at http://groups.yahoo.com/group/TheSweetSpotMM/
Watch the group page (or your email if you choose to receive emails from the group) on Saturday, May 5th for a message with instructions on how to enter.
Reply to that message between 8am and 8pm EST indicating you'd like to enter the giveaway.
That's it. You'll be added to the drawing for your chance at a random prize. Winners will be announced via the group after the giveaway closes. Authors will be sent the winning email addresses at that time and will contact their winners directly.
So far, the following authors have generously donated these or other prizes. Thank you, authors!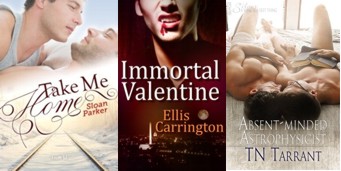 Hope you can join us at The Sweet Spot Reader Appreciation Day, hosted by Sloan Parker and S.J. Frost.