Once a week, I post a video I'm loving
. So here's this week's Video I Love…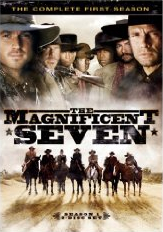 I just finished re-watching both seasons of The Magnificent Seven TV series on DVD, so I thought I would share a video. This series ran from 1998 to 2000 and was inspired by the film of the same name.
This show was a fav of mine back in the day. Gorgeous men willing to put their lives on the line to save innocent people…and each other. So much slashy goodness. The one and only fan fiction slash I've ever read (about any characters) was a short love scene between Ezra and Vin. I can't recall who write it, but it was delicious.
Enjoy the video. It's a compilation of Vin, Ezra, and Buck set to "Blaze of Glory" by Jon Bon Jovi. It's a bit long and the quality's not the best, but the guys are still great to watch.
(embedded video below)
Anyone else watch the show? Who was your favorite pairing? Come on, I know you all had dreams about these guys. Share.
Sloan Parker