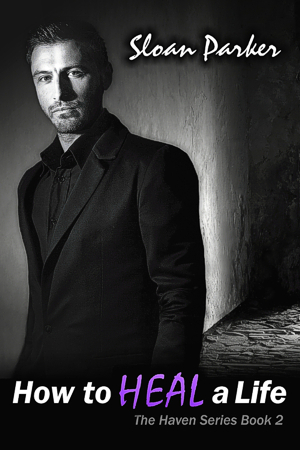 A private moment between Vargas and Seth…
Another minute of silence, and Seth sighed. "I don't feel as bad as she makes it seem. I mean, I feel stronger, more in charge of my life than I did six months ago. I'm working full time again. I'm living. I'm happy to be alive."
"That's all great, yeah?"
"She just makes it sound like there's so much more I have to do. Just because I can't leave my apartment without—" He cut off. He clenched his right hand into a fist and slammed it down on the arm of his chair. "Goddammit. She's right. I'm still royally screwed up."
"You are not."
"What kind of grown man can't even walk outside alone?"
"You're doing great. And if Dr. Arteaga isn't getting that, then maybe it's time to see someone else."
"No. She said the same thing today. She's done a lot to help me, and I like talking to her most of the time."
"Okay. But I don't like hearing you doubt yourself."
"I want to get past this." He pounded both fists on the arms of the wheelchair. "I want to get out of this fucking chair for good."
Vargas shot to his feet and crouched down before him. "You will. You're going to be okay, Seth. I've seen how strong you are. Every step of the way. You can handle anything."
"I want to believe that."
Reaching for Seth's clasped fists, Vargas tenderly wrapped his hands around them. "Believe it."
Seth lowered his eyes. He unclenched his hands, turned them over, and gripped Vargas's in return. The same way he remembered doing two years earlier in the hospital. Only this time, there was a current of excitement zipping through his body with the touch. He swept his fingertips over Vargas's wrists, then farther up his forearms, running the pads of his fingers over the warm flesh.
In the next lock of their eyes, he saw far more than friendship and support directed back at him.
The air in the meditation room grew hot and heavy. Seth's breathing picked up speed. He became very aware of their proximity, of the way Vargas's inhales also grew more rapid. Then Vargas's lips parted, and his tongue swept out to moisten them. Seth wanted to feel those lips against his own, that tongue on his. God, he wanted to know what kissing him would be like, how it would feel being touched by him in far more intimate ways, and how it'd feel touching him in return.
The enormous room seemed to shrink in size around them, creating a private haven as they held the stare between them.
Seth dropped his gaze to those lips he wanted to kiss so badly. And just like that, Vargas leaned forward. Seth did the same. Easy. Right. Like breathing.
Their lips only inches apart, Vargas jerked back. "I'm sorry. I shouldn't have—"
"It's okay. We don't have to—" Seth shrugged. "I mean, I get it."
Vargas studied him. "Do you?"
"Yeah, sure."
"I meant what I said earlier." He gripped Seth's hands again and caressed the backs of them with his thumbs. "I will never hurt you." He reached up and cupped his cheek. "Never."
HOW TO HEAL A LIFE (The Haven Book 2) Coming October 24th!