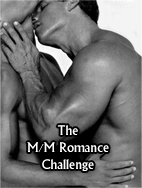 I'm participating in the M/M Romance Challenge over at I heart Paperbacks. Click the image below to check it out. I've been reading m/m romances for almost a year and a half (I've also written a book that I'm about ready to submit for publication. Wish me luck!). I've read some really great stuff in that time. I hope all of you who haven't tried m/m romance will give it a try. You're sure to find some great ideas for your next read on the contest links at I heart Paperbacks.
I'm going to try for 10 books by the end of August. I'll probably list the books as I go. But if I know them ahead of time, I'll list those too. I'll put strikes through the ones I've read.
Update (3/31): 10 books won't be a problem by August 31, so I think I'll go for 40 books. I'm not going to be specific with a list of options, but I want to try for several new authors and a couple of genres I haven't read any m/m in yet, as well as several books from my TBR list that have been on there for months.
Last update to the list: 8/31/2009
1. Mexican Heat by Laura Baumbach & Josh Lanyon
2. Embers by Tory Temple
3. Made to Order by Sean Michael
4. Touch by Lee Rowan
5. An Itch to Scratch by Julia Talbot
6. Under My Skin II by M. L. Rhodes
7. Forged by Sean Michael
8. Breakdown 1: Nowhere to Run by Mychael Black
9. Heart of the Matter [Breakdown 2] by Mychael Black
10. Fighting Chance [Breakdown 3] by Mychael Black
11. Eye of the Storm by Lee Rowan
12. Possessor and Possessed by Sean Michael
13. I'll Be Hot for Christmas (An erotic interlude) by Evangeline Anderson
14. Fireworks (An erotic interlude) by Evangeline Anderson
15. To Serve and Protect edited by T. Mitchell
16. Onyx by Mychael Black & Shayne Carmichael
17. Out of the Past by Sean Michael
18. A Family Secret by Cassidy Ryan
19. Soul Mates: Secrets by Jourdan Lane
20. Fugue by Rick R. Reed
21. Calendar Boys August: Scorched by Jamie Craig
22. Altered Heart by Kate Steele
23. Untamed Heart by Ally Blue
24. In the Driver's Seat by Angela Benedetti
25. The Broken H by J.L. Langley
26. Cowboy by J.M. Snyder
27. Perfection by Clare London
28. Catching A Second Wind by Sean Michael
29. I Spy Something Bloody by Josh Lanyon
30. The Ghost Wore Yellow Socks by Josh Lanyon
31. The Dark Horse by Josh Lanyon
32. Good Cop, Bad Cop by Julia Talbot & Chris Owen
33. The Gift by Kim Dare
34. A Coven Christmas by Jourdan Lane
35. Ding Dong Bell by Sean Michael
36. In Sunshine or In Shadow by Josh Lanyon
37. Heaven [Heaven Sent 1] by Ally Blue
38. Undercover Blues by Laney Cairo
39. A Limited Engagement by Josh Lanyon
40. Among the Living [A Psy Cop Novel] by Jordan Castillo Price