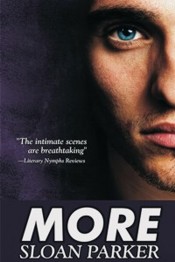 I'm thrilled to share that MORE is now available for the first time in print. It's the same story as the e-book version with a few minor wording corrections/tweaks. The trade paper is available at Amazon, Amazon UK and CreateSpace. It may take several weeks for it to appear in any other bookstores.
To celebrate the release, I've updated my website with a deleted scene that never made it into the final manuscript. This is the original scene for what happened when Luke came home early after meeting with his dad for the first time, then Richard arrived, having left his office early. Some of it may sound familiar as a few descriptions and Luke's internal realizations were eventually merged into the next scene or moved elsewhere. I think this part of the story turned out much better without this sex scene, but I was still sad to hit the delete key. I'm glad I can share it with everyone now.
I hope you enjoy visiting with Luke, Matthew, and Richard.