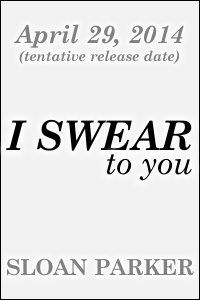 My publisher has set a tentative release date for I SWEAR TO YOU: April 29, 2014. This may change as Loose Id sometimes needs to shuffle their schedule around for various reasons. You can sign-up for e-mail notices about new blog posts and/or to get a copy of my newsletter for an announcement when the book is released.
Draft Story Description: I SWEAR TO YOU
Since the night they kissed back in college, Grady has been fantasizing about his former "straight" roommate. Now that Grady's finally ready for more with a guy, he heads to the local pride parade where he spots the man who's been starring in all those fantasies. But Grady broke Mateo's heart back in college when he refused to accept he might be gay, even after they spent an explosive night together. Mateo doesn't trust him and takes off before Grady can even say hello. Tracking Mateo down proves nearly impossible. So what's a horny gay virgin who wants only one man to do? He posts an ad online to encourage his friend out of hiding and into his bed. Once he gets Mateo between the sheets, he's sure he can convince him that this is no college experiment. Only, Mateo's been hiding from something. Or someone. Grady is determined to tear down all the walls between them so he can find out what happened to Mateo and help heal his wounds, and in the process just maybe show his best friend that he's not going to run this time.