Monthly Archives:
April 2016
How adorable is this?
And here's more of their story…
Here's another one of my picks for my "Favorite Scenes" blog series. It's an excerpt from my second novel BREATHE.
Why I chose this excerpt: This scene includes one of my favorite moments from BREATHE, when Jay shows Lincoln his tattoo of the two wolves running side by side and tells him that he wants a future together, all while they stand in the location where they had their first kiss.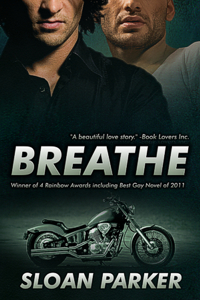 Lincoln sucked in a long breath with Jay's words. He watched the other man leave. Jay didn't falter as he made his way through the bar and out the rear entrance. The door closed behind him, and Lincoln faced the line of whiskey bottles.
Could he really do this?
He wanted to believe he owed it to himself. The truth was, he owed it to both of them.
He stood and followed the same path Jay had, passing by the old guy sipping whiskey at a table near the bathrooms. Lincoln didn't hesitate. He shoved open Sonny's back door and exited into the warm night air. The full moon lit the parking lot more than the streetlamps.
Jay waited for him, leaning against the wall near where they'd first kissed, where they'd first touched.
"Come here." Jay tugged him in close.
Lincoln couldn't trust himself to hold Jay. He stared at the man's chest—where the blood had been when he'd lifted Jay into his truck and drove him to the hospital, where he had pressed against the blood-soaked shirt as he raced through the streets, listening to the breaths gurgling out of Jay, feeling the tears stream over his own cheeks. "Are you okay?"
"I am now."
He kept staring at Jay's chest; it moved up and down with each breath. He'd spend forever watching the man breathe if he could.
Jay cupped Lincoln's chin and forced his head up until their gazes locked. "I'll be okay if you say yes. I don't want to live without you."
"This—us—it can't work."
"It has to." Jay brushed his lips over Lincoln's ear. "I don't want to lose you."
The warmth of Jay's body against his made it hard to think. Lincoln gripped Jay's hip in his hand. "Can you promise me every time you look at me she isn't all you'll see? That you won't see everything I took from you?"
Jay kissed along Lincoln's cheek and chin to the corner of his mouth. "Every time I look at you all I see is you. I can't promise it'll be easy, but I don't even want to think what it'll be like if we don't try. She deserves to be remembered, to be talked about. I'd like to share her with you. I know you're strong enough to learn to love her too. Not to hate yourself because we're here and she's not."
"You give me a lot of credit."
"You've earned it." Jay wrapped his arms around Lincoln's neck. The press of Jay's mouth to his melted Lincoln's resolve to think instead of feel. He pulled Jay closer. Their tongues met, like old lovers, tentative, slow at first, relearning each other, remembering what was so good about being together.
Lincoln fell into the sweet oblivion of kissing Jay. His world shrank to that parking lot, to the two of them.
Slowly Jay placed one chaste kiss after another on Lincoln's lips before speaking. "I was thinking…"
"You think too much." Lincoln leaned in. He wanted more of that kiss. More of Jay.
Jay pressed two fingers to Lincoln's lips. "You need somewhere to live. And I could use help fixing up my place."
"You can't seriously—"
"I want you to live with me. If it's too weird to live in my house, I want us to get our own place."
"Jay…my sister needs me."
"She'll have you. She's got the money to buy a new house. To take care of Jessica, the boys. There'll be more than enough."
"What are you talking about?"
"I gave her my share of the settlement. I never wanted it. It was my parents and Stuart who started it all."
Lincoln stared at Jay, then grabbed him by the back of the neck and crushed their mouths together. Jay Miller couldn't possibly be for real.
How the hell had this man, practically a kid, whom Lincoln had hurt so badly, kept from turning into an angry, jaded person? How had Jay learned to love again?
Following his lead was the least Lincoln could do. He wanted a life with Jay. Wanted to believe they could move beyond the past and really live again.
Wanted to believe forgiveness and love were enough.
Jay held Lincoln's face in his hands. "Come home with me, Linc."
Lincoln rested his forehead against Jay's temple. "You're sure?"
"I am." Jay lifted the sleeve of Lincoln's T-shirt and traced his fingers over the destroyed tattoo. "The eagle's a symbol of courage and wisdom. Some believe if you can embrace both, you can fly above all of the shit in your life."
"All of it?"
Jay nodded and rolled up his own shirtsleeve. The outline of an eagle feather crossed his upper arm; two wolves filled the interior of the feather, running side by side.
Lincoln ran the tips of his fingers over one wolf, then the other. "Why?"
"I wanted you to know…to see…we can both live beyond our pasts. Together."
(c) Sloan Parker, 2010. All Rights Reserved.
The full story is available at: Amazon US | iBooks | B&N | All Romance eBooks | Kobo | Google Play