I'm excited to share that this Saturday, September 1st is another Reader Appreciation Day at the Sweet Spot Yahoo Group. Stop by to enter the giveaway, read excerpts, and chat with authors of M/M romances.
The giveaway runs from 8 am – 8 pm EST.
Here's how to enter the giveaway:
If you haven't already, join the Yahoo Group at http://groups.yahoo.com/group/TheSweetSpotMM/
Watch the group page (or your email if you choose to receive emails from the group) on Saturday, September 1st for a message with instructions on how to enter. The subject of the post should read something like "Enter the Giveaway: Respond to this message for a chance to win"
Reply to that message between 8am and 8pm EST indicating you'd like to enter the giveaway.
That's it. You'll be added to the drawing for your chance at a random prize. Winners will be announced via the group after the giveaway closes. Authors will be sent the winning email addresses at that time and will contact their winners directly.
So far, the following authors have generously donated these books, winner's choice from their backlist, or another prize. Thank you, authors!
The full list of prizes is at the end of this post.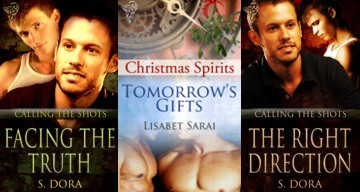 Complete List of Prizes
Hope you can join us at The Sweet Spot Reader Appreciation Day on September 1st.