I'm thrilled to announce that my second release, BREATHE, is now available for purchase at Loose Id. I would like to extend a huge thanks to everyone who worked on this book, with special thanks to my critique partner, Connie, and my editor, Antonia, for all their help, as well as the cover artist, Valerie Tibbs, for the wonderful cover.
I hope anyone who picks up a copy enjoys Lincoln and Jay's story! I had a wonderful time writing it.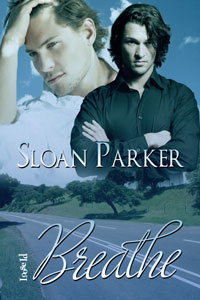 BREATHE
Length: Novel Plus, 234 pages (in PDF)
Genre: LGBT Romantic Suspense (m/m)
Publisher: Loose Id
Cover Artist: Valerie Tibbs
Format: ebook
ISBN: 978-1-60737-890-7
Available at
Blurb
Lincoln McCaw lost everything — his home, his job, his partner — after he caused a fatal accident. A year later, he's drowning the guilt and despair in whiskey, but he needs to move on. His sister and her kids are counting on him. Then he meets a man who ignites a passion Lincoln thought he'd never find. Too bad one night is all they can have together. Now he needs to figure out how to turn away from the only person who makes him feel alive…before whoever is sending him threats decides Lincoln needs to suffer more than he already has.

Jay Miller is surrounded by grief and misery until he finally gives in to all those years of sexual fantasies about being with another guy. Realizing he's ended up in the arms of the man who caused his wife's accident, he tries to pull away. But how can he give up a friendship he needs more than anything — a friendship and a love that could save him? He may not have time to make the choice before someone else destroys it all.
Excerpts
Read the first two chapters (PDF)
Read another excerpt (web page)