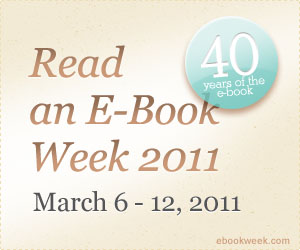 Read an E-Book Week is March 6-12, 2011.
Stop by the Read an E-Book Week website to learn about the history of ebooks, the advantages of ebooks, to enter to win an eReader, and more.
If you're interested, here are some ideas to help share your love of ebooks (some are mine, some are from the Read an E-book website):
Tweet links to the ebooks you read during Read an E-Book Week using the hashtag #ebookweek.
Show your eReader and all its functionality to a friend or family member who doesn't yet read ebooks.
Set up an ebook challenge on your blog.
Read only ebooks for the week.
Blog, tweet, or Facebook about why you love your eReader and ebooks.
I hope you enjoy the week reading a great ebook.
Sloan