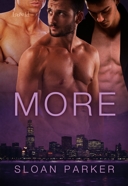 I am pleased to announce that my m/m/m erotic romance MORE has won the 2011 EPIC eBook Award in the Mystery, Suspense, and/or Adventure Erotic Romance category. A list of all the category winners was posted at the ARe Cafe. I'm extremely proud of this book, but I will admit I wasn't expecting to final, let alone win. I thought it would be a good experience to enter, and I guess I was right.
About the EPIC awards:
EPIC eBook Awards entries are judged by volunteers, with the largest percentage of EPIC eBook Awards Judges being active EPIC Members. Guest judges, all of whom are either published authors or publishing professionals, may be used as alternate judges at the EPIC eBook Awards Committee discretion. After the first round of judging the works of the finalists are sent to second panel of judges and winners are selected.
I'd like to congratulate all the finalists and winners of this year's awards. I'd also like to thank EPIC and all the volunteer judges for their time and effort in putting together this yearly event. And lastly, thanks to Antonia, Treva, and everyone at Loose Id for all their support and hard work helping me with my first release.
I'm absolutely thrilled MORE won, but I will admit it was hard to be too excited about the award while watching the devastation in Japan. My heart goes out to all those so deeply affected by this disaster.
Sloan