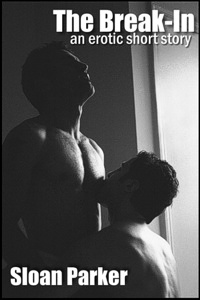 Hey guys, hope you are all doing well. I'm back to blogging this week and am excited to share some news:
I have a new short story available on my website: The Break In. Billy's been breaking into his ex-lover's apartment every Friday night for a little solo sex in the bed they used to share. One night he almost gets caught before he has a chance to finish his usual routine and climb back out the window. Now he has only seconds to decide if he should hide and end up watching his ex have sex or run from the most erotic encounter of his life–and maybe a chance at love again.
I mentioned the short, as well as a few other updates, in my newly reformatted newsletter. If you aren't on the mailing list you can view the newsletter online. If you're interested in signing up to receive my latest news in your inbox, you can do so via this form. The newsletter will be published every other month or so and will include writing updates, release information, free fiction, and more.
Also coming soon is a serial story that I will share via my newsletter and on the blog. The first story will continue with my short More Than Just a Good Book. A new scene will be added with each newsletter publication, and after the last scene is shared, I'll make the entire thing available as an ebook.  I will be writing the story one scene at a time, although I do already have an outline for the rest of Mark and Scott's story.
If you check out The Break In, I hope you enjoy it. It was a fun one to write.
Sloan