I have a cover for my new short story "Swept Away," my free gay anniversary story.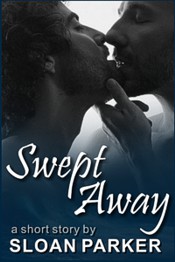 Blurb for Swept Away
The biggest case of Eddie's career and nothing's going right. He's stuck in a stifling courtroom with the air conditioning on the fritz during the worst heat wave in years, and the judge has denied his latest motion. He just wants to spend a quiet night celebrating with his partner, Mike, on their fifteenth anniversary.
But Mike has a surprise in mind this year. A surprise that may be more than Eddie imagined possible.
ETA: the updated cover in 2015