It's been a bit since I've posted an update on my writing progress, so I thought I'd share where I'm at with my stories.
If I didn't mention it before I'm back to revising Walter & Kevin's book, an erotic romantic suspense set in the same world as More. My goal is to have this book finished and submitted before the end of 2011. That may be pushing it since I usually spend more time revising than I do writing the first draft (and I have some research left to do), but I think it's good to have a goal that pushes you to work hard. That said, I won't submit it until I can feel really good about the story. I'll keep you posted on the progress.
So far I've worked through some issues that were in the beginning of the first draft and came up with changes that I'm really happy with. I sliced and diced a few scenes, and it really made the story stronger so far. I also added one scene that knocked my socks off, even as I was writing it. I'm still amazed when that happens.
I've also drafted a new scene for my serial story More Than Just a Good Book. I'm hoping to add one or two more scenes and then publish part 3 in late October. I'll share a link for part 3 when it's available on my website or you can sign up for my newsletter to get the announcement.
Since my writing plans changed a bit during 2011, I thought I'd post the answer to a question I often get asked.
FAQ: Are you still going to write more with Luke, Richard, and Matthew?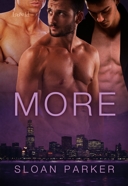 Definitely. I still plan to complete 2 more books with Luke, Richard, and Matthew. I had originally planned to write one stand-alone release in between each MORE book. After Breathe, I took the time to outline all 3 of the remaining More books (which included Walter's) and sent the story synopses to my publisher. They were interested in seeing Walter's book next (at that time More was still a new release and we weren't sure how well it would do with readers). Before I had a chance to finish Walter's story, there was a submission call from my publisher for Christmas stories. I had already started notes for Take Me Home, so I worked up a proposal. That proposal was approved, and I took a break from Walter's book to finish writing Take Me Home, which is now scheduled for a December 13, 2011 release. And I have to say, I'm so glad I did that because I love how Take Me Home turned out.
Now I'm back working on Walter & Kevin's story, which has a working title but I'll wait to share when I'm closer to finishing the book since it may change.
I'm not sure if I will be writing another stand-alone contemporary or Richard's book next. I'm leaning toward Richard's book, but in either case I will be finishing both Richard and Matthew's stories. The boys have more to learn, about each other and themselves.
The above answer also explains the year gap between books. Since finishing Breathe, I have outlined 4 novels, written one manuscript, and completed a first draft for another, both novel-length. This means I should move more quickly through the next couple of projects in 2012.