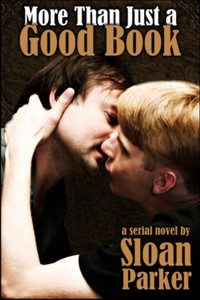 I'm excited!! I've got two scenes drafted for the next installment of More Than Just a Good and I just sent a batch of chapters for Walter's story to my critique partner.
Since I'm getting farther along in both projects, I thought it would be fun to start sharing some teasers here on the blog.
First up is a couple lines from part 5 of More Than Just a Good Book (unedited).
He needed the touch, the comfort of having Scott close, of being with someone, other than Dr. Wolfe, who would believe him. The cops sure hadn't seemed like they did.
This story is getting pretty intense. Can't wait to share this next installment.
Look for more teasers every other week or so, including more from More Than Just a Good Book as well as teasers from Walter and Kevin's story.