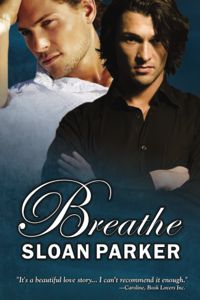 I'm so very pleased to share that my Rainbow award-winning novel BREATHE is now also available for purchase in paperback. As of right now, you can pick up a copy at Amazon US, Amazon UK, and Barnes and Noble.
Lincoln McCaw lost everything—his home, his job, his partner—after he caused a fatal accident. A year later, he's drowning the guilt and despair in whiskey, but he needs to move on. His sister and her kids are counting on him. Then he meets a man who ignites a passion Lincoln thought he'd never find. Too bad one night is all they can have together. Now he needs to figure out how to turn away from the only person who makes him feel alive…before whoever is sending him threats decides Lincoln needs to suffer more than he already has.
Jay Miller is surrounded by grief and misery until he finally gives in to all those years of sexual fantasies about being with another guy. Realizing he's ended up in the arms of the man who caused his wife's accident, he tries to pull away. But how can he give up a friendship he needs more than anything—a friendship and a love that could save him? He may not have time to make the choice before someone else destroys it all.
This book contains explicit sexual content and graphic language.