I've got more concrete details about my upcoming release…
As a special Spring Fling promotion, my publisher will be offering the epilogue for my novel Breathe, titled WHAT YOU DO TO ME, as a free download via www.loose-id.com from April 23rd through April 28th.The original novel will also be available at a special discount price during that time. After the 28th, WHAT YOU DO TO ME will be available for purchase at Loose Id's website only.
I'll post a link when WHAT YOU DO TO ME is available. Be sure to grab your free copy before the special promotion ends.
Until then, check out the fab cover art.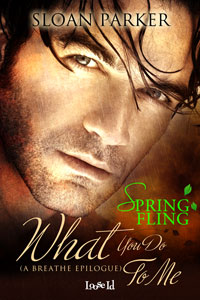 Description: Not many people in their small town are likely to understand how a widower can be with the man who accidentally killed his wife. Good thing what Jay wants—and deserves—is all that matters to Lincoln. Despite all the threats and anger and gunshots aimed at them over the past few months, they are determined to continue exploring the undeniable passion between them and build a new life together. Jay and Lincoln's happily-ever-after is showcased in this epilogue to the novel BREATHE.
Length: 4,400+ words
ISBN: 978-1-62300-359-3
Coming to Loose Id April 23, 2013 as a short spring fling read (free for a limited time)