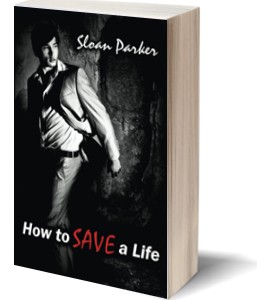 I'm pleased to share that you can now pick up a print copy of HOW TO SAVE A LIFE at Amazon, CreateSpace, and Barnes & Noble.
HOW TO SAVE A LIFE
ISBN-13: 978-1492268963
ISBN-10: 1492268968

BOOK DESCRIPTION
Reporter Kevin Price has a knack for tripping over his own feet. And everyone else's. He's in over his head undercover at the Haven, a swanky gay sex club, determined to find out why members of the club keep vanishing. Five minutes inside and he can no longer deny the truth about his sexuality. He turns to the one man he can't get out of his head, the sexy ex-cop handling security. Too bad Kevin doesn't trust cops. Not since the only night he let himself be with another man.
Walter Simon doesn't do the club scene anymore. Not since he found love and lost it. That doesn't mean he'll let anyone hurt more innocent gay men. Even if that means going head-to-head with the klutzy, closeted, much-younger reporter. Kevin has information about the disappearances. Better to keep him close. And safe.
Neither is at the club to hook up or fall in love. Now they must work together amid their growing passion in order to uncover the truth before more men disappear.
Note: How to Save a Life features Walter Simon, a secondary character from MORE, but can be read as a stand-alone story.
EXCERPT
Kevin did not want to talk about this. Yet a part of him longed to do just that.
Here, in this room, with a gay man listening to him, he couldn't pretend any longer. He wanted to kiss Walter again, let his tongue wander over those lips, down along the skin of his neck to the warm flesh under his clothes, his chest, and lower to his abs, and even lower. He wanted to taste it all. He couldn't hide from that fact. Not any longer.
He'd known for months now that he'd been heading to this moment. Whether he'd wanted to admit it or not.
It had been easy to keep the promise he'd made in his youth. At least while he'd been with Sondra. He wasn't a cheater. Now that she was gone, now that he was here, now that he'd felt this man's touch…he was done holding back.
Walter cupped his chin and forced him to look up.
"I guess I can't hide from it forever."
"That's good. You don't have to hide. Not here. Not in this room. Not with me."