This month's Reader Appreciation Day, hosted by me, SJ Frost, and Jambrea Jo Jones at the Sweet Spot Yahoo Group, is this Saturday, June 21st.
Stop by the Yahoo Group to enter the giveaway, read excerpts, and chat with authors of M/M romances. The giveaway runs from 8 am – 8 pm EDT.
Here are some of the books and other prizes available: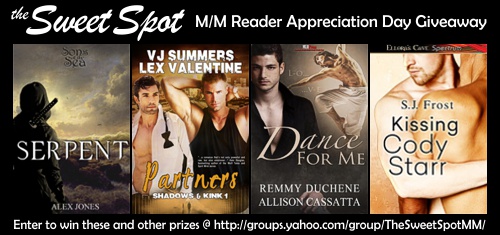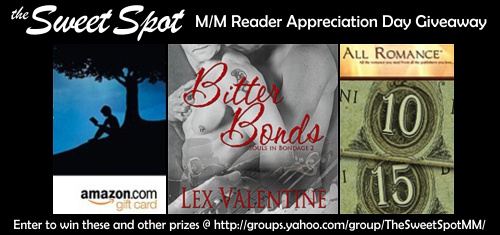 And here are a couple of last-minute editions.
Here's how to enter:
If you haven't already, join the Yahoo Group at http://groups.yahoo.com/group/TheSweetSpotMM/
On Saturday, June 21st watch the group page (or your email if you choose to receive emails from the group) for a message with instructions on how to enter. The subject of the post should read something like "RAD Giveaway: Reply for a chance to win"
Reply to that message anytime between 8am and 8pm EDT indicating you'd like to enter the giveaway.
That's it. You'll be added to the drawing for a chance at a random prize.

Complete List of Prizes & Donating Authors

If a book is listed more than once, the author has donated multiple copies and there will be more than one winner selected.
Hope you can join us at The Sweet Spot Reader Appreciation Day.
Authors of M/M romances, if you're interested in joining us for our next RAD, we'd love to have you. Send me an email and I'll add you to our author contact list.