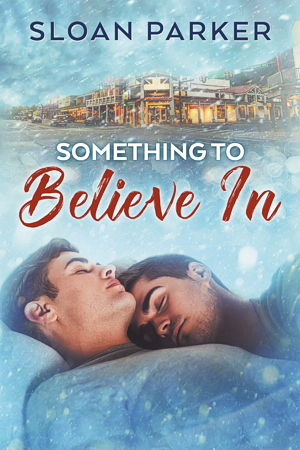 I've got several exciting items to share today:
1) My novella SOMETHING TO BELIEVE IN has been re-released with a fantastic new cover from Lou Harper—and a new lower price!  
When some extra cash lands best friends Sean and Gavin alone in a hotel room until Christmas, they can no longer deny their feelings for each other. Even with no place to live and no job prospects, Sean is determined to not just show Gavin what a real home and holiday is like, but to keep them off the streets for good and build a future together.
You can pick up a copy at Amazon, Google Play, Smashwords, and Playster. Coming soon to B&N, iBooks, and Kobo.
2) Just a reminder, I also have two freebies on my site that continue with Sean and Gavin's story from SOMETHING TO BELIEVE IN.
3) New Reader Giveaway: I'm a guest at Sinfully Gay Romance Book Reviews. Stop by to check out an exclusive excerpt from HOW TO HEAL A LIFE and to enter the giveaway for a chance to win two backlist e-books and a $15 Amazon.com gift card!
4) My collection of stories FOR LOVE AND FOREVER is currently a free read at iBooks, B&N, Google Play, and Smashwords. (Amazon doesn't allow authors to change the price to free, but hoepfully they'll price match it shortly.)