I've made some awesome progress on my current projects lately, so I hope you don't mind the recent lack of blog posts. (If you're curious about what I've been working on, you can see the latest status updates on the Works-in-Progress page of my website.)
One of the things I've been wanting to do with the blog is get a few excerpts of my published works posted since a fair number of new readers find me through this site. So starting this week, I thought it might be fun to share some of my favorite moments from each of my titles.
To start things off, here's an excerpt from SWEPT AWAY with Eddie and Mike
Why I chose this excerpt: I've always loved the contrast of how Eddie was feeling in this moment (when he first enters the cool ocean water and sees how happy Mike is) with the way he was feeling earlier (both in the stifling courtroom and at the airport when he was hot and sticky and thought he was about to see Mike's ex).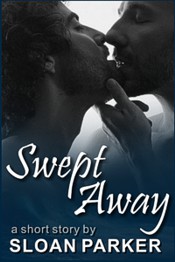 Setup: The biggest case of Eddie's career and nothing's going right. He's stuck in a stifling courtroom with no air conditioning during the worst heat wave in years, and the judge has denied his latest motion. He just wants to spend a quiet night celebrating with his partner, Mike, on their fifteenth anniversary. But Mike has a surprise in mind this year. A surprise that may be more than Eddie imagined possible.
"Race you," he said, then jumped off the deck and ran onto the beach stark naked, heading for the water's edge.
"Asshole," I called out as I kicked off my shorts and shoes. I chased after him, laughing all the way to the water. He'd already made it in waist-high by the time I got there. He splashed me as I ran in. I lunged at him, and he let out a huge-ass giggle as I wrapped my arms around his chest from behind. A fucking giggle.
Wait. That hadn't come from him. It was from me. His laugh still sounded like a guy his size normally would. It sounded great. I sounded like a kid running to get to the dodgeball first at recess. Maybe it was the sound of pure joy.
I had every intention of dunking him under the water, but I gave up on that idea. I couldn't bring myself to end his laughter. Better to cut off my own embarrassing sounds. I let go of him, dove under the surface, and basked in the cool water that surrounded my heated flesh from head to toe. The stickiness of the past twelve hours washed away, and every concern and worry went with it.
Maybe I had been under too long. His large hands grabbed my arms and yanked me up. "Come here." He brought his lips to mine. The stubble on his face was wet, and the water dripped to my chest as we pressed closer together.
He grabbed the back of my head and parted his lips. So many times we'd done this, a caress of tongues, the intensity building, our cocks growing harder as our bodies surged together, as we shifted our hips and found the rhythm that drove us both to the edge. But we'd never done anything outside. We'd fucked year after year in front of forty guys, but not once had he given me a simple kiss on the lips outside of our place or a gay bar. Never outdoors where someone might see. Never standing naked in the ocean.
He backed up a few steps toward the cottage tugging me along with him, never stopping the touches or the kisses until we reached the water's edge. He pulled me down to the sand until I was lying on top of him. I braced myself, hands in the wet sand on each side of his head, and lined up our bodies groin to groin. I stared down at him. The wet hair on his chest shone in the dim light of the moon. The muscles of his biceps flexed as he ran his palms down my arms. His eyes crinkled up again at the corners as he gave me a slow smile. God, he'd never looked better. The swell of the surf rolled in around us, the water shallow, barely an inch deep where he had decided to get horizontal. Such a smart man.
We moved together, creating friction that had my cock wet at the tip for reasons that had nothing to do with the ocean. I rocked faster, loving the groan he gave up as my shaft grazed the sensitive skin below the head of his dick. I didn't want the moment to end. But I also wanted the wave of orgasm to crash into us both, like the surf washing over our tangled limbs. I wanted to watch his face in the moonlight as he came.
He must have had another idea. "Eddie, stop. Up. Inside." Maybe those were all the words he could form right then.
Read the full story at: Amazon| iBooks | B&N | Smashwords | Kobo | Google Play