Recently I decided to enter my 2010 book releases in a few RWA (Romance Writers of America) contests, not only because I am proud of my work (who knows if my explicit love stories will have a shot, but it was fun to enter), but also to support the individual chapters of RWA since the contests are often a way for chapters to earn money.
But I wanted to give my support (and money) to those chapters who recognize ebooks, and not ebooks that are printed and bound as print books (some require you to submit bound books even when entering an ebook). When I'm done entering the contests on my list, I'll post the names of the chapters to thank them for accepting ebook submissions, but for now, I have news…
Included in the ones I've entered so far were two cover art contests.
Well, one of the contests has posted its results, and I'm happy to say, the Loose Id cover for BREATHE (cover artist: Valerie Tibbs) is a finalist in the Dunes & Dreams Picture Perfect Cover Contest. CONGRATULATIONS Valerie!!!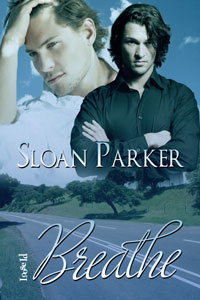 This contest looks at both the cover and the blurb together. Not only do I love this cover and the story (obviously), but I wrote the blurb, with a few tweaks by Loose Id, so I'm really happy with this contest final for many reasons.
Thank you again to Valerie and Loose Id for such a beautiful cover.
Sloan