I don't have it added to my site yet, but I just had to share my news. I finished the next installment for MORE THAN JUST A GOOD BOOK featuring Mark and Scott. An excerpt and link for part two will be in the next issue of my newsletter, which will be sent out sometime this weekend. Then after that I'll post the link on my site and here on the blog next week.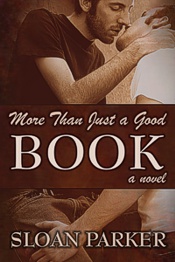 This story is both a gift to my readers and a way for me to explore a new writing process. I've never polished a story one chapter at a time, and so far this has been a fun, interesting change for me.
Here's how the serial story will work:

I've outlined a short novel (with at least 10 parts) for Mark and Scott. As I have time between my other writing projects, I'll work on this story.
As they are released, links to each installment will be available via my newsletter, website, and announced here on my blog.
After I finish the last installment, I'll go back through and do a final review/edit of the entire story as a whole.
When complete, all installments of this serial story will be compiled into one ebook.
Again, I'll be sending out the newsletter with the link to part two this weekend.
I hope you enjoy Mark and Scott's story.
Have a good one!
Sloan