I'm pleased to announce the release of part 4 of Mark and Scott's story, More Than Just a Good Book, which you can read free on my website.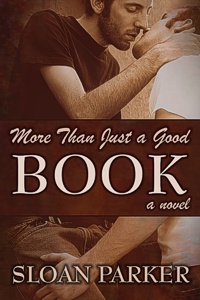 Writing this story has been such an interesting process for me. This is the first time I've ever written and polished anything one section at a time before finishing the rest of the story. I have the entire book outlined, so I know the major plot points, but I often explore new ideas as I write and then go back and rework the beginning later. Overall though, I've been really surprised at how well this new process is working out for me. I hope you guys are enjoying it as well.
No Multiple Formats until Complete: I'm no longer posting each installation in multiple formats as that takes quite a bit of time to put together, and I figured I'll save that work for when the full version is complete. This should help me prep new parts more quickly. I hope this isn't an inconvenience for anyone. You can read the individual installments on my site or parts 1-4 in PDF format.
Just a note for those of you waiting to read the entire story all at once: I will be making it available as a full download in various formats when the story is complete. My best guess is that'll be sometime next year. I have 10 parts planned, but again, that's just a guess as things might change the more I write. I might end up cutting some chapters or adding more.
When I'm finished I may decide to publish the full story and make it available for purchase, but there'll be some time where you can download it first, so be sure to keep an eye out here on the blog or via my newsletter for more on when the full story will be ready.
Thanks for checking out Mark and Scott's journey together.
Here's an excerpt from part 4:
Scott shook his head. "Nothing's wrong." Since that first kiss in the elevator, he'd been able to let go, to be in the moment with Mark. He wanted that feeling again. He breathed deep and let himself fall into it. "Absolutely nothing."

"Good. Because I've been dreaming of doing something to you." He ran his hands down the front of Scott's bare chest and abs straight to the small dragon tattoo on his hip. He gripped both hips and dropped to his knees. Then his tongue was exploring the dragon. "God, I love this tat." He stroked the hard length of Scott's cock with one hand. "Been dying to suck you."

"Oh God." This was not happening. Scott's entire body shook as Mark's warm breath hit the top of his dick. "What are you doing?"

"Want to feel your cock on my tongue, in my mouth." He held the base of Scott's dick and angled the head toward his mouth. "You are free to move as you'd like. Touch me, touch yourself, fuck my mouth, whatever you need." He leaned forward and licked the tip of Scott's dick.

Fuck, fuck, fuck. Nothing had ever felt like that. Scott hissed as Mark did it again, tonguing all over the head and the sensitive skin below. The wet heat of Mark's saliva covered the end of his cock. Then Mark opened wide and took him deep, sucking his way to the tip again.

"Oh. My. God." How could this feel so differently than a handjob? He jerked his hips forward and immediately pulled back. Too much. "Wait."

Mark sat back on his heels. "You don't want me to?"

"I… I do. No one's ever…"

"Never?"

Scott couldn't bring himself to say it.

Mark released him and stood. "What the hell kind of men have you been with?"

"Not many." He shrugged. "I usually blow them, or they fuck me then leave."

"Not this time. This time, I'm sucking you until you come. Unless you don't want—"

"I do!"

And before Scott could dwell on how the squeal of those words must have sounded, Mark dropped to his knees again and had his cock surrounded by that wet heat. Scott's ass hit the wall. He reached out and gripped the top of the desk in one hand and the dresser in the other. He watched Mark's head bob faster and faster, and the intensity built with each plunge of his mouth. So different. Real. Powerful. And that was the problem.

Staring down at Mark felt…wrong. He gripped Mark's shoulders. "Please." Mark sucked harder, faster. "Please. Can I…"