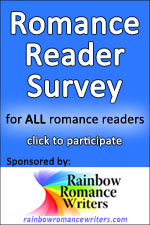 Calling all romance readers:
Rainbow Romance Writers, the LGBT chapter of Romance Writers of America (I'm a member of both), is interested in your opinions. Our research committee would like to ask you some questions about your reading and buying habits. At the end of the survey you'll get the chance to enter a drawing for a $25 Amazon gift voucher.
If you're interested, you can take the survey here. Thanks so much for checking it out!