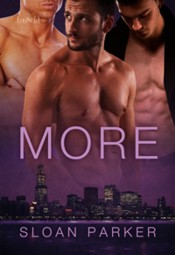 I'm working on the first draft of MORE THAN MOST (More #2) and thought I'd share some tidbits. Please note: some of this may get deleted in later revisions of the manuscript.
Richard was just surprised to find out someone he thought couldn't stand him actually respected and admired him.
Several unexpected visitors have Richard waiting for Matthew to tell him the truth about what he wants.
I didn't realize how much Luke would still count on non-verbal communication until I started writing this book. It's a struggle for him to put things into words, but when he does, man he says a lot.
Matthew just brought up a topic neither Luke nor Richard were expecting. The poor boys are speechless.