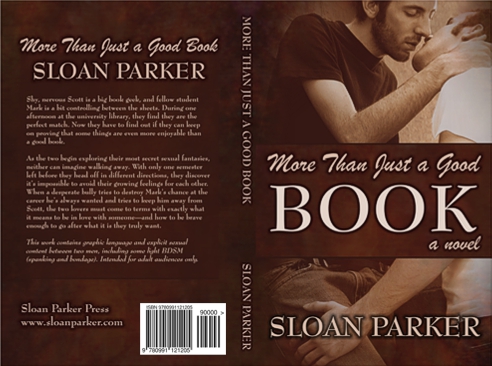 I'm holding the proof copy of the print edition for MORE THAN JUST A GOOD BOOK in my hands right now, and I'm about to start doing a final proof and formatting review of the e-book.
The e-book will be published to retailers the week of November 18th. It'll be up on All Romance eBooks right away, Amazon can take a day or two, and it might take a few days to a couple of weeks for some of the other stores to add it to their catalogs. I'll update my website with links as it becomes available.
Cannot wait to share the final result with everyone.

Book Description
Shy, nervous Scott is a big book geek, and fellow student Mark is a bit controlling between the sheets. During one afternoon at the university library, they find they are the perfect match. Now they have to find out if they can keep on proving that some things are even more enjoyable than a good book.
As the two begin exploring their most secret sexual fantasies, neither can imagine walking away. With only one semester left before they head off in different directions, they discover it's impossible to avoid their growing feelings for each other. When a desperate bully tries to destroy Mark's chance at the career he's always wanted and tries to keep him away from Scott, the two lovers must come to terms with exactly what it means to be in love with someone—and how to be brave enough to go after what it is they truly want.
This work contains graphic language and explicit sexual content between two men, including some light BDSM (spanking and bondage). Intended for adult audiences only.
Length: 164 pages in print format, 60,000+ words