I SWEAR TO YOU is now available for purchase at Loose Id. It should be arriving at Amazon, All Romance eBooks, and other retailers before too long.

Buy at:

If you haven't already, enter my release party giveaway for a chance at a $10 e-gift card. Winners are drawn daily from all entries received thus far. 

BEHIND THE STORY: A Preview in Pictures
Here are a few pictures that visually represent Grady and Mateo's story and the lake where much of the book takes place.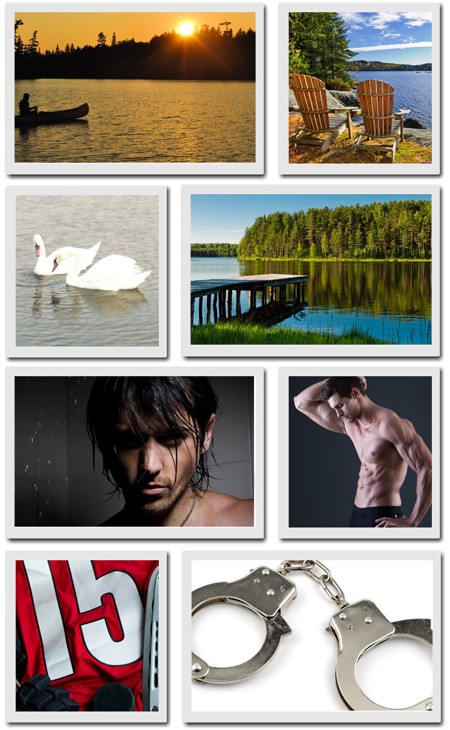 Photo credit: each image is licensed through istockphoto.com or fotosearch.com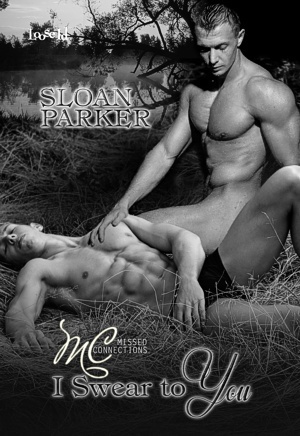 Story Description
When roommates Grady and Mateo give in to their growing lust, it's the best sexual experience of their lives. But are they really gay? Is this just sex or something more? It takes time for confused Grady to figure that out, but once he does, he's determined to have all of Mateo. Too bad tracking down brokenhearted Mateo proves impossible.
So what's a horny gay virgin who wants only one man to do? Grady posts an ad online to encourage his friend out of hiding and into his bed. Once he gets Mateo between the sheets, he's sure he can convince him that what they had together was no college experiment. But Mateo's been hiding from something—or someone. Grady is determined to tear down all Mateo's walls so he can find out what happened to him and help heal his wounds, and in the process show his best friend that he won't run. Not this time. He swears.
Excerpt
Mateo moved in closer. His mouth was turned up at the corners in a teasing smirk Grady had seen from him a lot over the years. "Is it locked? Knowing your family, they'd just barge right in."
"What?"
He took another step, and his voice dropped lower. "Is the door locked?"
"Yeah." Grady's brain was having a hard time keeping up with him. Mateo was so close to him now, their bodies almost touching, Mateo's mouth mere inches from Grady's own. So close that when Mateo spoke, Grady could feel that warm breath on his lips again.
"Good." Mateo shifted on his feet, bringing them even closer. Their jean-covered thighs brushed one against the other.
What the hell were they doing?
Mateo bit his bottom lip and slowly released it. Then in a quick move, he cupped the back of Grady's neck and leaned in. Just like on the couch. Only this time he didn't stop.
The first press of his mouth to Grady's was a soft touch that grew more urgent, more desperate with every second. He turned them and backed Grady out of the kitchen area and up against the closed door of the guesthouse, bringing his full weight into him, rocking against him, holding Grady's head in his strong hands.
A minute into that kiss, and Grady's body was ready to explode with a release he never thought could come from just one kiss.
Then their tongues connected.
An electric current shot through him. He grabbed on to Mateo in return, holding him by the hips, forcing Mateo to move against him again, to brush that lean, hard body against his cock over and over. He couldn't help but notice how very strong and masculine Mateo felt in his hands—and how fucking good that felt.
The door rattled behind them with their movements. There was nothing slow or easy about the kiss, about the way they rocked against each other.
A primal need had erupted inside Grady, leaving him unable—and unwilling—to stop the desire blazing through him.
"Teo," he said around a moan as Mateo kissed a path down his neck. "What are we doing?"
"Christ, Grady. I don't know, but I don't want it to stop."
Fucking hell, he didn't want it to stop either.
He wanted more, everything he had pretended he wasn't picturing during their past few jerk-off sessions.
Mateo pulled back. He stared at Grady's lips again, licked his own. "Fuck." He shook his head as if to clear his thoughts. Or maybe not. He propped a hand against the door beside Grady and leaned in once more.
Their mouths met again, and that was it. Grady gave himself over to the moment—over to Mateo.
Mateo's lips slid to his earlobe, and he whispered, "I wanna suck your dick."
Grady whimpered. He couldn't keep the reaction at bay if he'd wanted to.
Mateo ran those lips down along the sensitive skin of his neck again, nipping and licking as he went, sweeping his hands up under Grady's T-shirt, over the flesh of his bare chest. "I wanna fuck you all goddamn night."
Grady forced Mateo's head up so they were face-to-face. "Shut up and kiss me again."
Only he didn't really want him to shut up. He wanted to hear every word. He wanted exactly what Mateo was describing.
He wanted it all. Every fucking thing.