Here's my fourth selection in my "Favorite Scenes" series.
Why I chose this excerpt: I've always been a fan of the calm, private moments where people who are in love allow themselves to be vulnerable with each other, when they are lying in bed together, sharing intimacies and dialogue that only they (and the reader) can fully understand.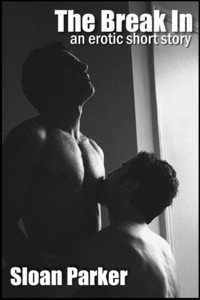 Spoiler Alert: this excerpt is taken from the end of the story and gives away certain twists.
Roger sighed. "Damn. You always were a sweet fuck."
I laughed and smacked his arm. "I'm feeling the love."
He sat up so fast the bed creaked. He leaned over me. "You should. And next time, don't run from it."
I nodded, and Roger sank back to the bed.
Doug reached for the blankets and lifted them over us. "Sleep."
I could do that. I hadn't been so relaxed since the night before I'd been arrested.
"Billy," Roger said.
"Huh?"
"I think we had a break-in. They left the window open."
I laughed again. Leaving the window open had been my reminder I had to leave. When I jerked off on their sheets, it was easy to focus on my cock and forget my heart. Forget I didn't belong there.
I threw the covers back, lunged for the window across the room, and tripped. I landed on the floor with my feet stuck in the twisted blanket and my hands gripping the long curtains on either side of the window.
Doug laughed, cackled, whatever you called it when someone couldn't sit up and was clutching their gut while the laughs poured out.
Roger shifted to the foot of the bed and peered down at me. "Are you okay?"
"Yeah. I am now." I kicked off the blanket, stood, and slammed the window shut. The faint sounds of honking horns, the hum of the traffic, the occasional shout disappeared. All I heard was the slowing laughter behind me and the low, deep voice that said, "You're home, Billy."
(c) Sloan Parker, 2011. All Rights Reserved.
The full story is available at: Amazon US | Amazon UK | Amazon DE | iBooks | B&N | All Romance eBooks | Kobo | Google Play