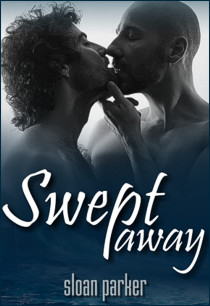 My latest short story "SWEPT AWAY" is now available to read at the M/M Romance Group on Goodreads. If you're not a member you can also read it on my website or download a copy. (For those who are not members of the Goodreads group I recommend you check it out. It's a great community for readers of m/m romance. Even if you don't enjoy participating in book discussions there's a lot of other entertaining and informative threads, even for lurkers, such as reading challenges, book giveaways, author release news, online retailer sales, and more.)
If you check out "SWEPT AWAY" I hope you enjoy it. It's a romantic one dedicated to Sean who shared the photo and words that started Eddie and Mike's story.
Blurb for Swept Away
The biggest case of Eddie's career and nothing's going right. He's stuck in a stifling courtroom with the air conditioning on the fritz during the worst heat wave in years, and the judge has denied his latest motion. He just wants to spend a quiet night celebrating with his partner, Mike, on their fifteenth anniversary.
But Mike has a surprise in mind this year. A surprise that may be more than Eddie imagined possible.
Thanks for checking it out.
Sloan