Tag Archives:
my writing process
This blog post has been moved to my website. You can read it here.
I have a release date for my holiday story! Something to Believe In is coming December 23, 2012 from MLR Press. It's about two young homeless men who fall in love and search for a way to stay off the streets and build a life together.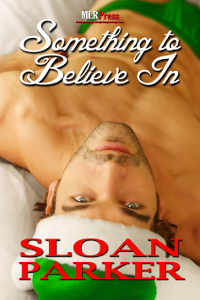 Here's the official description:
After running away from the hatred and abuse of their teen years, Sean and Gavin have been hustling to survive for too long now. When some extra cash lands them alone in a hotel room until Christmas, they can no longer deny their feelings for each other. Now neither one can imagine watching the other walk off with one more trick. Even with no money and no job prospects, Sean is determined to not just show Gavin what a real home and holiday is like, but to keep them off the streets for good and build a life together.
Length: 17,500+ words
Release date: 12/23/2012
Publisher: MLR Press
This one wasn't in my original plans for this year, but I'm really glad I took the time to write it. (Huge thanks to Kris Jacen at MLR for the encouragement!) When I was finished with Sean and Gavin's story, I was surprised at the outcome. It was quite different than I'd originally conceived. It's very emotional, not erotic as I'd planned. And in the end, I had no doubt I was meant to tell this story, both because of the subject matter and what I learned through the research and writing.
Writing this story, I unintentionally worked a bit outside my usual process. I learned new things about myself, about what moves me, about how important research can be to simply setting the right mindset/mood for the author, about pacing and character development.
I hope you enjoy SOMETHING TO BELIEVE IN if you check it out later this month.