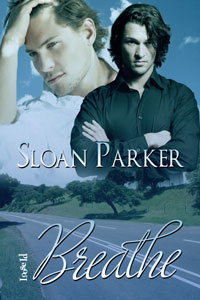 BREATHE recently received three wonderful reviews. I try not to get too focused on reviews for fear both the good and bad will mess with my head, but I have to say, I was thrilled to see such lovely comments. (oh, and don't get me wrong. I love to SEE reviews for my work. Just not sure authors like me should read his/her own if they are going to interrupt the writing. Reviews are for the readers.)
A Best Book by Tuberose at Whipped Cream Reviews
"This is one of the best books I've read since I started reading m/m books. Sloan Parker does it again with her sophomore release. Her characters, Lincoln and Jay, are so well written that you fall in love with them and are cheering them on towards their happily ever after despite the odds against them."
A Recommended Read from Doug at Dark Divas Reviews
"…to place two characters who have such a major event tying them together and holding them apart at the same time…it was captivating. And without giving anything away, I'll simply state that this talented author has delivered. She has managed to create both as sympathetic, sexual, and lovable. Their relationship becomes something you not only want but need to see succeed."
A Top Pick from DH Starr at The Romance Reviews
"The characters, their issues, and the action was organic, flowing beautifully from one scene to the next. The fact Ms. Parker has managed this with a large cast of characters and fast-paced movement is nothing short of masterful writing."
The Sloan-is-celebrating GIVEAWAY
In celebration of this good news, I'd like to give a little something back to the universe…so I'm giving away free ebooks today. Here's how it works…
Comment on my blog post to enter the giveaway stating which of my ebooks (MORE or BREATHE) you'd like to win.
FIVE of the commenters will be randomly selected to win their choice.
The ebooks are available in winner's choice of these formats: PDF, EPUB, PRC, LIT, or HTML.
Giveaway ends at 11:59 PM EST on Saturday, January 22, 2011.
Please don't put any links in your comment. Sometimes those get caught in the spam filter.
Do include your email address in the Email form field.
I'll contact (via email) the winning five on Sunday.
Good luck!
Sloan
Update – To all who've entered the giveaway:
First off, thank you to those of you who already purchased one or both of my ebooks. As I have more releases, I hope you have a chance to win a future contest.
Looks like there are 18 entries in the giveaway. Since this was a quick weekend contest and you were all good enough to stop by and share which book you are interested in (and since I'm still in such a great mood), I'm going to say "forget the five" and am sending everyone who entered one free book. Look for an email from me verifying which book you want and asking you for a preferred format. Congratulations to all. If you don't get an email from me by Monday morning, feel free to contact me in case I missed you or the email got lost.
I hope you enjoy the story!
Sloan