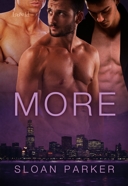 I'm thrilled to share that MORE was selected as a finalist in the First Book category of the More Than Magic RWA (Romance Writers of America) contest.
As I posted before, MORE and BREATHE were finalists in the Passionate Plume Contest and BREATHE won third place in the New England Reader's Choice awards. (Final results for the More Than Magic and the Passionate Plume contests will be announced in July.)
I cannot tell you how blown away and thrilled I am with those results in this year's RWA contests for my highly erotic m/m/m and angst-filled high-drama m/m love stories. Well done Luke, Richard, Matthew, Lincoln, and Jay!
A special thank-you to the New England, Passionate Ink, and Romance Writers Ink chapters, their contest coordinators for putting together the awards, and the judges. I was very impressed by the organization and professional communication from all. Also a huge kudos to these chapters for hosting contests that recognize digital-only books in electronic formats.