All four volumes of Don't Read in the Closet (an M/M Romance Collection) are now available to download for free at All Romance eBooks and Goodreads.
The list of participating authors is huge, and the collection is a great way to try out some of the wonderful new and established writers in m/m romance. I'm honored my short story "Swept Away" was included in this collection.
Hopefully I didn't miss listing any of the authors. Congratulations to all and a huge thanks to those in the M/M Romance Group at Goodreads who did all the formatting and hard work of putting the collection together as ebooks and making them available at Goodreads and All Romance eBooks.
If you pick up your own copy of these free reads, I hope you find some wonderful new authors to read.
Volume One
Jade Archer – CUPID'S BEAU (Fantasy/Friends to Lovers )
J. P. Barnaby – END OF THE WORLD AS WE KNOW IT (First Love )*
Sarah Black – SUCKER-PUNCH (Athlete/Hurt-Comfort )
Scarlet Blackwell – BREAKING WAVES (Surfing/Angst )
Penny Brandon – FINDING JACK (Cowboys/Mild BDSM )
Lee Brazil – BE A BAD BOY (First-Time/Family Drama )
Cardeno C. – WOMAN WITH A DILDO (Friends to Lovers )
L.C. Chase – OPEN TACKLE (Friends to Lovers )*
Kim Dare – MASOCHISM 101 (BDSM/Friends to Lovers )
S.J. Frost – A LITTLE BIT COUNTRY (Musicians/Rivals to Lovers )
Jeanette Grey – HEART AND SOUL (Friends to Lovers )
Jambrea Jo Jones – WILD BLUE YONDER (Military )*
Pender Mackie by DOG DAYS OF SUMMER (Blue Collar/First Date )
KM Mahoney – SHOW & TELL (College/First-time )
JL Merrow – BEAR NAKED (First-time/Bears )
M.J. O'Shea – BRIDGES (First Love )*
Neil S. Plakcy – PHOTO BOOTH (Cowboys/FBI )
Dustin Adrian Rhodes – STORM OF PASSION (Friends to Lovers )
Jaime Samms – MOURNING (Hurt/Comfort )*
Justin South – REFLECTIONS (First Love/Hurt-Comfort )
Zach Sweets – LUSCIOUS LOVE (Coming out/Food Kinky )
Piper Vaughn – WANTING (First Love )*
Silvia Violet – TIME TO TELL (Military/Friends to Lover)
Deanna Wadsworth – UNSCHEDULED MAINTENANCE (Office Sex )
Stuart Wakefield – THE ELEMENTS OF LOVE (Sci-Fi/Ménage )
Alex Whitehall – HOLD ME TIGHT (Hurt-Comfort/BDSM Light )
Lisa Worrall – JUST ONE KISS (Gay-for-You/Cops )
Connor Wright – GONE TO PIECES (Sci-Fi/Mild BDSM )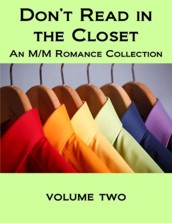 Volume Two
Blaine D. Arden – COLOR ME (Paranormal)
Mandy Beyers – THE PRESENT IN ROOM FOUR (Rent Boy/Hurt-comfort)
JR Boyd – LABOR OF LOVE (Blue Collar)
JM Cartwright – APPEARING KNIGHTLY (Superhero)
Jaya Christopher – CODY AND THE HERMIT (BDSM/Cowboys)*
Casey Cox – BE MY BOY (D/S Slave)
Nicole Dennis – HIDDEN AMONGST STARS (1950's Hollywood)
Megan Derr – DELIVERY WITH A SMILE (Comedy)
Taylor V. Donovan – HEATSTROKE (Angst)*
Haven Fellows – HIDDEN NEEDS (BDSM)
Kerry Freeman – KEEP ME (Angst, D/s)
Kari Gregg – THE IMPORTANCE OF BEING DENNY (Angst)
Kaje Harper – LIKE THE TASTE OF SUMMER (First-Love/1980's)
Jason Huffman-Black – I AM THE HIGHWAY (BDSM)
Marguerite Labbe – TEARS OF THE SEA (Paranormal/Fairytales)*
Amy Lane – SUPER SOCK MAN (College/Solo-action)
Cleon Lee – BENEATH YOUR WINGS (Angel/Demon)
Jordan Sophia Lombard – FINDING HOME (Sci-fi/Military)
Sarah Madison – SURF'S UP (Role-Playing)
Angel Martinez – IF ONE DREAM SHOULD FALL AND BREAK (Sci-fi)
NJ Nielsen – SHADOWS ON THE HEART (Paranormal)
Elizabeth Noble – TAKE WHAT'S YOURS (Futuristic Sci-fi)
Adara O'Hare – CHASING THE PRICK (Hurt/Comfort)
SJD Peterson – INNOCENCE TO THE MAX (Paranormal/BDSM)*
Lily Sawyer – LAWN MOWER BOYS (Summer Love)
Andrea Speed – MY BLOODY VALENTINE (Paranormal/Sorcerer)*
DH Starr – TLC (Recovery)
Em Woods – BETWEEN FRIENDS (Action)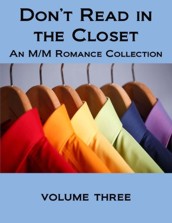 Volume Three
Mael Day – THREE MONTHS AND ELEVEN DAYS (First Time/College)
Astrid Detlefsen – THE MUSE (Established Relationship)
Sasha Devlin – STROKE OF MIDNIGHT (Werewolves/Vampires)
Ryssa Edwards – SPINNER (Military)
Tia Fielding – HAWK'S SPARROW (Werewolves)
Rachel Haimowitz – JUNGLE HEAT (Military)*
Julie Lynn Hayes – PAVANE FOR A PROUD PRINCE (Fantasy/Magic)
Valentina Heart – PLUG AND ENGAGE (BDSM/Friends to Lovers)
Lissa Kasey & Xara X.Xanakas – SINK OR SWIM (Established Couple)*
A.J. Llewellyn – CROCODILE UNDIE (M/M/M/M)
Clare London – SAY A LITTLE PRAYER (Paranormal/Angels)*
Belinda McBride – FREE TO FLY (BDSM)*
Summer Michaels – LUCKY BOY (Friends to Lovers)
Bran Mydwynter – FRIDAY I'M IN LOVE (Geeks-Nerds/Humor)
Cherie Noel – KISS AND TELL (Mild Kink)*
Lydia Nyx – MOON OVER MONTANA (Shifter/Cowboys)*
Devon Rhodes – HIS LAST RESORT (Coming Out) *
J. Rocci – JUST BREATHE OUT (First Time/College)
RJ Scott – GOT YOUR SIX (Military/ Friends to Lovers)
PD Singer – THE BOY NEXT DOOR (Friends to Lovers)*
Damon Suede – SEEDY BUSINESS (Sci-Fi)*
Ariel Tachna – YOU'RE IT (Friends to Lovers, M/M/M)
Bryl R. Tyne – ALIPIO (Fantasy) *
Missy Welsh – YOU AND BILLION BLUE TILES (First Love)*
Cooper West – HENRI'S WAR (Diesel-Punk/Film Remix)
Sara Winters – STARTING OVER (College/Athletes)
Serena Yates – ZEPH'S AWAKENING (Rescue/ Age Difference)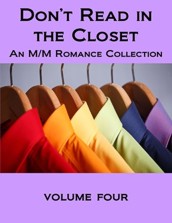 Volume Four
Mark Alders – PYROGASM (Paranormal/Firemen)
Rory Auden – BONDS AND BUBBLE RINGS (Shifters/BDSM)
Poppy Dennison – BLINDSIDED (Hurt/Comfort)
Megan Derr – PERMANENT EXHIBIT: THE GUARDIANS (Fantasy/Angels)
Charles Edward – HEROTICA: PHOTON'S STORY (Superheroes)
R L Ferguson – RIDING FOR A FALL (Cowboys/Friends-to-Lovers)
S.A. Garcia – BOUND TO BE SUITED (BDSM/Humor)
S.A. Garcia – A CURE FOR THE KING'S LUST (Wizards/Warriors)
David Greene – SNAKE BITE (Adventure/Coming of Age)
Kathleen Hayes – BROKEN (Hurt/Comfort)
Kayla Jameth – CONTROLLED FALL (Adventure/Nature)
K. Lee Klein – OUTFOXED (Rockstars/ Established-Couples)
Celia Kyle – JOY AND PAIN (BDSM/Voyeurism)
Taylor Law – WRONG TURN (Shape-shifter/Coming-out)
Elizabeth Lister – THE BEACH HOUSE (M/M/M)
Ryan Loveless – TWENTY YEARS LATER (WELCOME HOME TO THE CONQUERING HERO) (Military/Reunion)
Selah March – THE SATYR'S LAMENT (Post-Apocalyptic/ Mythology)
Michele L. Montgomery – TEARS FROM ABOVE (Angels/Light D/S)
Zahra Owens – TRUST (Organized Crime)
Sloan Parker – SWEPT AWAY (Established-Couples)
Jen Pinto – BLUE FLAMES (Sci-Fi/Masturbation)
KD Sarge – ROMEO AND JULIAN: A NEAR-TRAGEDY NEAR VERONA (Sweet-No Sex, In-the-Closet)
Kate Sherwood – TAKEN (Friends-to-Lovers, Hurt/Comfort)
K. Z. Snow – QUIET ERP (Fairies/ Non-Explicit Sex)
VJ Summers – LIAR, LIAR (Goth Club/Friends-to-Lovers)
Fae Sutherland – MORE THAN WORDS (Guy-liner/Public Sex)
Anne Tenino – WHITETAIL ROCK (Cops/Inter-Racial)
Pia Veleno – FREEDOM'S SOUVENIR (Vacation Romance)
Eden Winters – SWEET DREAMS (College/Coming-Out)
*These stories also appear in the GayRomLit Special Edition.