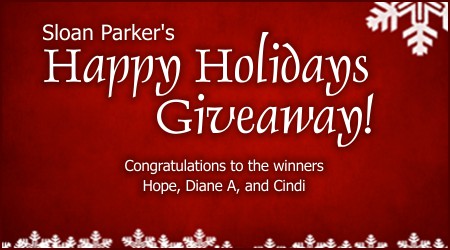 Thank you to everyone who entered the giveaway and shared your recommendations for newcomers to M/M Romances. I'm really looking forward to putting together the final list of books and authors, which I'll be posting to my blog in the next week or so.
Now on to the drawing: There were a total of three random winners selected. Congratulations to Hope (comment #17), Diane A (comment #100), and Cindi (comment #2). I'll be contacting each of you via email so you can select which gift certificate you'd like and what format of e-book.
Thanks again to everyone for stopping by the blog and sharing your recommendations. I wish you all a happy, healthy, and joyful 2013!
All the best,
Sloan